---

Here we go: The next Read America Read Project is April 29th.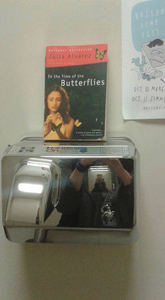 Leave a book for someone to take anywhere you want. This time, ask two people you know to do this also. This way the project will grow each month. I would like a book marker to go in every book so people know where they are coming from. Thank you for being a part of this project. Lets make April 29th great! Send me photos too. I have a list of names of who participated and as this grows, keep letting me know you are doing this. Thanks a zillion. You all rock. Lets get America reading!!!!
e-mail: gloria@read-america-read.org
Thanks so much,
Gloria

---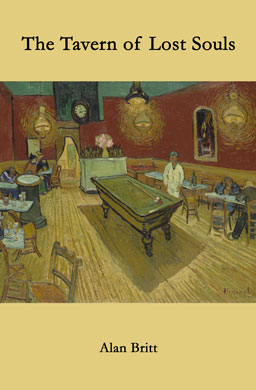 I grew up in southeastern Florida where hot summer days sizzled and summer nights' humid lips of jasmine pressed against my frosted bedroom jalousies. An aspiring athlete, I wanted to play for the Milwaukee Braves-I thought Hank Aaron was poetry in motion. Well, songwriter for a garage band, later I found myself a college sophomore writing poetry and a founding member of a group of poets and artists known as the Immanentists. Though somewhat eclectic, we were a blend of European Surrealism with a Native American sensibility who believed that through language and paint we could attain spiritual fusion with the natural world. After reading The Immanentist Anthology, the great French poet, Yves Bonnefoy, said that Immanentism was the most exciting poetry he had seen from the US in decades. What a thrill! I remained in contact with Yves until his death in 2016. Eventually, I drove a yellow Ryder truck from West Palm Beach to Baltimore to attend the graduate Writing Seminars at Johns Hopkins University where I made a beeline to the National Gallery in DC to marvel at the wondrous creations by Rembrandt, Vermeer, Monet, Manet, and Odilon Redon. Baltimore became my heaven with snow. Inspired by Andrew Marvell, William Blake, Walt Whitman, Federico García Lorca, Gabriela Mistral, Pablo Neruda, Eunice Odio, Sandor Kanyadi, Kristina Ehin, plus hundreds of others, I now write poems about anything and everything. Along the way I've learned that to write poetry is to love, and to love is to write poetry.
-Alan Britt
Alan has published 25 books of poetry.
---
"When thunder becomes symbolic again, / then and only then we'll discover / the true nature of existence." Not true. We know it right here in this book-this prism-this kaleidoscope of the soul bursting with imagination. And the poet's everyday world is never lost, even while tethered to high-flying multi-imaged phrases and clauses. Alan Britt's literary personality is here, precise in every note. The poetic will of each line, urgency and flair, teaches us the game.
-Grace Cavalieri, Producer/Host of Public Radio's "The Poet and the Poem from the Library of Congress" and Maryland Poet Laureate
In The Tavern of Lost Souls, each poem rises through the reader like wine, filling the mind with the intoxication of life viewed from this unique and humanitarian perspective. Alan Britt combines elements of sensuality and subtle humor with a depth of feeling "thick with the aroma of fresh imagination." About Baudelaire he writes, "Sifting his way through human frailty, / paying attention to things lesser poets buried / beneath the borrowed sentiments of their age . . ./" These words could apply to his own work as well, as reality and fantasy walk through these pages together, creating an addictive book one finds difficult to put down.
-Patty Dickson Pieczka, Author of the novel Finding the Raven and winner of the 2012 Library of Poetry Book Award from The Bitter Oleander Press for Painting the Egret's Echo
$18.95 | ISBN: 978-1-950063-26-0 | 83 Pages
---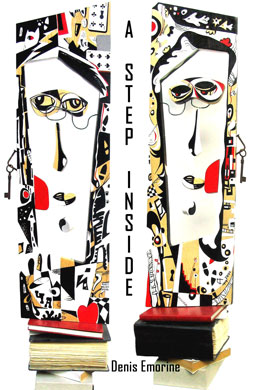 Denis Emorine is a French writer. He was born in 1956 in Paris. He has an emotional attachment to English because his mother was an English teacher. He is of Russian ancestry on his father's side. Writing, for Emorine, is a way of harnessing time in its incessant flight. Themes that re-occur throughout his writing include the Doppelganger, lost or shattered identity, and mythical Venice (a place that truly fascinates him). He also has a great interest for Eastern Europe. His theatrical output has been staged in France, Canada (Quebec) and Russia. Many of his books (short stories, plays, poetry) have been published in Greece, Hungary, Romania, South Africa, and the United States. His first novel La mort en berne, 5 Sens éditions, was published in Switzerland, in 2017. An English translation Death at Half-Mast is available in the USA https://www.experimentalfiction.com/ In 2015, Denis Emorine was awarded the Naji Naaman Literary Prize Lebanon (honor prize for complete work) For more information, visit his website at: http://denis.emorine.free.fr/ul/english/accueil.htm
ABOUT THE TRANSLATOR
Phillip John Usher is Assistant Professor of French and Comparative Literature. His book Errance et cohérence: essai sur la littérature transfrontalière à la Renaissance (Paris: Classiques Garnier, 2010) deals with the topic of Renaissance border-crossing and globalization. As a translator, he is the author of the first English-language version of Ronsard's epic La Franciade (1572) (New York: AMS Press, 2010) and of Denis Emorine's No through world (Edmonds, WA: Ravenna Press, 2004). He has also translated various academic and non-academic articles and works. His articles have appeared or are forthcoming in the Bibliothèque d'Humanisme et Renaissance, La Revue des Amis de Ronsard, L'Esprit Créateur, French Forum, and elsewhere. Educated at the University of London (UK) and Harvard University (Cambridge, MA), he regularly lectures in the United States and Europe and has held a visiting position at Boston University (fall 2009). He regularly organizes lectures in the "Translation Across the Disciplines" series and is the webmaster for the Barnard Center of Translation Studies.
Denis Emorine's short-stories reflect the misunderstanding that separates human beings, the gap between the words and their meaning. For the author, the language, far from facilitating the exchanges among us, makes all communication almost impossible. Man is trapped by his feelings whatever these feelings may be. In this way an individual is thus doomed to deceive others and to deceive oneself and manages to do it all in good faith. Denis Emorine's characters are often overwhelmed by a situation they are unable to control or they are victims of fatality as it happens in a Greek tragedy. According to the Russian literary critic Dimitri Zadkine, it is "the romantics condemned to failure who make of their existence a tragedy, the artists lost in a dreamlike dimension, where their hypersensitivity prevents them from taking flight. They are always on the borders of madness and death. »
Cover Art: "Autoportrait" by Tatiana Samoïlova
$16.00 | ISBN: 978-1-950063-03-1 | 53 Pages
---
Having raised two children and spent more than three decades as an educator in upstate New York, Gregory Wolos currently resides with his wife of forty-two years in a small town not far from Boston, Massachusetts. Gregory's daily regimen includes writing, running, and tending grandchildren. He holds a doctorate from the University at Albany.
Over one hundred of Gregory's short stories and reviews have been published in journals and anthologies like Glimmer Train, Georgia Review, Michigan Quarterly Review, descant, Florida Review, The Pinch, Post Road, Baltimore Review, Los Angeles Review, PANK, Superstition Review, Tahoma Literary Review, Southern Humanities Review, and many others.
Gregory's work has won awards sponsored by Solstice, descant, Gulf Stream, New South, the Rubery Book Awards, Emrys Journal, Gambling the Aisle, and the White Eagle Coffee Store Press.
Gregory has published three other story collections: Women of Consequence (Regal House Publishing, 2019), Dear Everyone, (Duck Lake Books, 2020), and The Thing About Men, (Cervena Barva Press, 2023). For full lists of Gregory's publications and commendations, visit www.gregorywolos.com.
More often than not Gregory's stories reflect Kafka's assertion that a literary work "should be an ice axe to break up the frozen sea inside us."
The thing about men is that there is no single "thing." The men featured in this story collection are fathers, sons, grandfathers, husbands, lovers, and loners. They are (or have been) teachers, models, gigolos, hypnotherapists, school superintendents, tattoo artists, lawyers, crematory workers, and casino employees. Some are victims; others are victimizers. All struggle to find stability or, at the very least, comfort in a world that challenges their assumptions about manhood as they search for footing in the rubble of a crumbling patriarchy. There are kindnesses and cruelties in these stories; there are successes and failures. But pull back the curtain on the central characters in The Thing About Men, and you will find that they are all men you know.
---
These unique stories include humans and other animals—from dogs to pandas to animal tattoos—that serve as characters to reveal the mongrel, spotted, sometimes loving relationships between men and women. Many of these stories have won awards, some are premise pieces, all are interlaced with dry humor. Here is a gifted collection that probes into our animal nature and, once read, it will not be forgotten.
—Lee Hope, Founding Editor-in-Chief, Solstice: A Magazine of Diverse Voices and author of Horsefever, a SPD best-selling novel
"Injuries and afflictions abound in The Thing About Men. Gregory Wolos keeps his compelling collection attuned to complications of recovery, while illuminating, with care and craft, the wounds most in need of wary monitoring: those that persist beneath 'the usual top layer of things.' In story after fine story, Wolos urges all of us to delve deeper."
—Matthew Pitt, author of These Are Our Demands, Midwest Book Award winner, and Attention Please Now, Winner of the Autumn House Prize
$19.95 | ISBN: 978-1-950063-58-1 | 224 Pages
---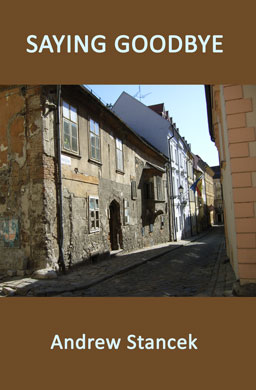 Brief Description of Saying Goodbye
A year in the life of a six-year-old Slovak boy being brought up by his grandparents in Soviet-era Czechoslovakia. In this flash story of childhood and self-discovery, filled with heartbreak and joy, betrayal and love, Adam must invent who he will become.
Andrew Stancek describes his vocation as dreaming - clutching onto hope, even in turbulent times. He has been published widely, in SmokeLong Quarterly, FRIGG, Hobart, Green Mountains Review, New World Writing, New Flash Fiction Review, Jellyfish Review, Peacock Journal and The Phare, among others. Among his contest wins are the London Independent Story Prize, the Reflex Fiction contest, and the New Rivers Press American Fiction contest. His work has appeared in Best Microfiction 2021, the Bending Genres Anthology and Bath Flash Fiction anthologies. He has been nominated for the Pushcart Prize.
---
Saying Goodbye is the story of a family reckoning with loss, loyalty, disappointment, devotion, and at the center our narrator, a child as unforgettable as any Dickens hero. Abandoned by his mother, rescued by tenderness, he loses his innocence and finds his courage in a world both unapologetic and lit with the fiercest sort of love. This gorgeous story will break your heart open.
-Nancy Stohlman, After the Rapture and Going Short: An Invitation to Flash Fiction
Some boys get a layer cake, others get abandonment. When young Adam's unstable mother drops him off at his grandparents' Bratislava home prior to his sixth birthday, he knows she is not coming back. Instead he must stitch together a new life, of neighborhood bicycle rides, local shopkeepers, warm strudel smells, and fresh family pain. Andrew Stancek's Saying Goodbye is at once a story of longing and grief, and one of resiliency and tender connection between a grandfather and a boy. "Something good always grows out of something awful, like mushrooms out of manure," Adam says. This is a spare, effective novella-in-flash of one year in a boy's life, beautifully written, memorably told.
-Sara Lippmann, author of Doll Palace
$16.00 | ISBN: 978-1-950063-75-8 | 52 Pages
---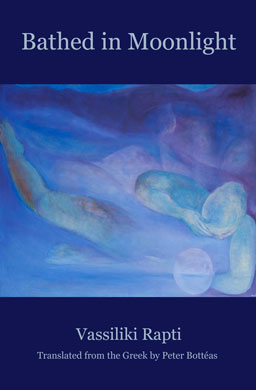 About the Author
Vassiliki Rapti was born and raised in Greece, and studied Comparative Literature and Media in Greece, France, and the United States. She holds a Ph.D. in Comparative Literature with an Emphasis in Drama from Washington University in St. Louis, and is the author of several books, including Ludics in Surrealist Theatre and Beyond (Ashgate, 2013), the co-edited volume Ludics: Play as Humanistic Inquiry (Palgrave/MacMillan, 2021), and the bilingual poetry collection Transitorium (Somerset Hall Press, 2015). Her translation publications include Greek surrealist author Nanos Valaoritis, and her poetry and translations have been published in various international journals. She received a Parnassos Literary award in Greece in 1998.
Her poetry is fueled by surrealist imagery, a pursuit of playfulness in artistic expression, and a desire to capture wonderment in everyday life. She is Chair of the Ludics Seminar of the Mahindra Humanities Center at Harvard University, where she founded the Advanced Training in Greek Poetry Translation and Performance Workshop, and currently teaches World Literature and Digital Culture at Emerson College. She is the founding director Citizen TALES* Commons, an international collective of scholars and artists. The poetry collection that forms the core of this volume was published in Greek in Athens in 2021. In November 2022, the Voice of Greece, the radio arm of the Hellenic Broadcasting Corporation (EPT), featured Vassiliki as its Poet of the Week, with twice daily readings of her poetry throughout the week. About the Translator
A native of Toronto, Canada, Peter Bottéas holds a Master's degree in Translation from the Université de Montréal and worked for many years as a translator, revisor, editor, and educator in French Canada. After a twenty-year detour as a psychotherapist in Boston, he recently returned to one of his first loves, literary translation, and is currently the primary translator of Greek Boston-based poet Vassiliki Rapti. The author and translator have done several poetry readings together in New York and Boston, as well as in on-line forums. He is a member of the multidisciplinary think-tank and creative forum Citizen TALES Commons and, along with Vassiliki, is co-host of the podcast series Borders Unbound: Hellenic Poetry of the Diaspora and Beyond. Peter is also an occasional voice-over artist, an infrequent poet, and an aficionado of French and Greek poetry set to music.

---

Ever since an insomniac, lovelorn Sappho looked up at the moon, Greek lyric poetry has echoed her register of gluko-pikron: the sweet-bitterness of longing. We open our mouths because we desire. Open Bathed in Moonlight to any page and you'll find the language of desire suffused by the tender, intensely focused erotic glow of Vassiliki Rapti's rapturous gift. Yet the moon, and Sappho, are not the only presiding spirits of illumination in this magical collection. Rapti has struck the Sapphic note in a new key by fusing it with the voices of some of the great surrealist Greek poets of the twentieth century. The result is a felicitous mix of mournful eloquence and expressionist imagination, delicate inwardness and evocative power-a testament to the "Perpetual Perseverance" of a disciplined and formidable imagination: you were cast among myriad
multicolored peacocks
so that you might learn the skill
of perseverance
dragged out, freed after aeons
flung, whirling, whirling
into the embrace of the moon. In the pitch-perfect registers of Peter Bottéas's beautiful translation, Bathed in Moonlight is pristine.
-George Kalogeris, author of Winthropos, Associate Professor of English Literature and Classics at Suffolk University, Boston As it moves back and forth over time, Bathed in Moonlight explores the ambiguity of what is lost and what is gained in poetry. While Vassiliki Rapti's poems certainly engage with the voices of her native Greek tradition they would also seem to be in dialogue with poetries beyond the borders of the western world. She tends to locate individual experience in the collective. And so, with intense lyricism and transformative, vivid expression, each poem creates its own separate world of emotional strength. These poems are fluent, vibrant, reflective, sensitive, open and brilliantly sensory. They reflect Rapti's wonder at the world, the cyclic nature of life and language. Her voice spins, floats, and whirls from spiral shells, floating lakes, the ever vigilant moon and calls through fragments of memory, the depths of the underground and the unspoken that hides between each line.
-Gonca Özmen Vassiliki Rapti's luminous, capacious poems are journeys arising from hope and fears; aching and searching, they seek kinship and reconciliation with nature which is the true home for the restless, solitary self. Sensuous yet balanced, sparse yet containing multitudes, Bathed in Moonlight illuminates the life of the mind where remembrance and unbridled thoughts run together, where human yearnings are an enduring life force, where words, written from the innermost place resonate and affirm the power of poetry. This marvelous collection of poems is a balm in our fractured and chaotic time.
-Pui Ying Wong author of The Feast $16.00 | ISBN: 978-1-950063-76-5 | 66 Pages
---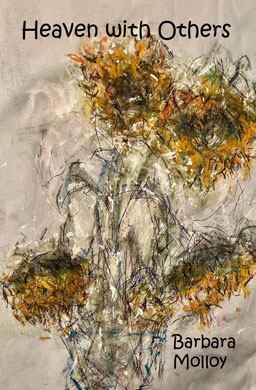 Barbara Molloy is a writer, artist, and jazz vocalist who makes her home in Coupeville, Washington on beautiful Whidbey Island. A previous book of poems, In Favor of Lightning, was published by Wesleyan University Press. Ms. Molloy's work has been nominated for Pushcart prizes and has won awards from The Pen Foundation. Her poems have appeared in a variety of literary journals.
---
Barbara Molloy's new collection Heaven with Others is a feast for the senses, as well as an elegiac reminder that all we have is the present. These poems study mortality: "As if it was not her at all,/dying,/abut to die,/being dead,/or returned to life..." ("Gift of Sunflowers"). In the hands of this accomplished lyricist even the most sordid past is rendered as fine art and gifted with visceral re-birth in organic images not easily forgotten: "Leaves strewn about the yards-/the exact color of church and rectory bricks..." (Breeze). Molloy's voice brings down the high-brow and lifts up the colloquial. We are the beneficiaries of her vision.
-Judith Skillman
In this new collection, Barbara Molloy Olund keeps a sharp focus on the chaos of discarded objects and lives while tracking surprising moments of humor. "Who said 'cherish the moments' and/ 'life gives you a lemon; make lemonade?'/ Are they tired yet?..." asks the narrator (Of Ghosts). These poems respect the hard work of living. There's an intention here, almost a promise, to never let go of what matters, no matter how seemingly unimportant an object or detail, how elusive a relationship-what prevails is the intention to continue searching for what's real and what's not. "I will not love the past./ Let it glitter. Let it sit forward..." (Decision). I admire how this work confronts the spiritual labor of care giving, birthing, struggling with addiction, negotiating with ghosts, and parenting. And I'm touched by the ongoing, archetypal process running through these pages-the sorting-out of wisps of beauty from the detritus of life.
-Christianne Balk
"Sometimes," Barbara Molloy writes "the most impossible/variables line up." And in her poems, they do. Her poems leave me breathless, off kilter, bewildered (in the archaic sense of being lured into the wilds). In these wilds, grief is a force of gravity. The vision here is uncanny-the familiar is strange, the strange familiar. The seemingly ordinary embodies the unforeseen, what Stanley Plumly called in her first book "a kind of clairvoyance."
-Eric Pankey
The poems in Barbara Molloy's new book, Heaven With Others, don't rest quietly in the realm of the familiar and quotidian. Nor do they keep to the territory of the uncanny and mysterious. Molloy's poems travel in the shifting borderlands between those irreconcilable worlds. That's the rocky, unmapped terrain that her fiercely moving poems lead us through. I'm reminded of Jean Valentine's sudden leaps into unforeseen light, and also of C.K. Williams's earthbound acknowledgement of the grit underfoot. These beautiful, memorable poems are compassionate, honest testaments to what it is to walk here alone and in company, as a mortal body inhabited by spirit and dream.
-Jennifer Atkinson
$18.00 | ISBN: 978-1-950063-54-3 | 56 Pages
---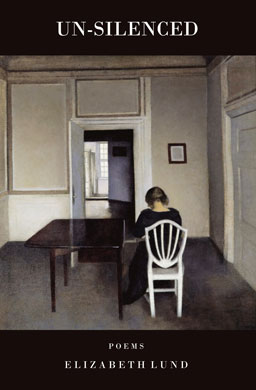 Elizabeth Lund is the award-winning host of Poetic Lines, which features in-depth interviews with established and emerging poets. She also covers poetry for major publications, including The Christian Science Monitor, where she edited poetry for ten years. From 2015 through 2019 she wrote a monthly poetry column for The Washington Post. Her own poems have appeared in the US, the UK, and Canada. She has read and appeared at a variety of festivals, most recently the Gaithersburg Book Festival, where she served as the final judge for the 2020 high school poetry contest.
Long before 2020, when the world began grappling with a pervasive pandemic that resulted in widespread personal isolation, another type of malevolence locked many women inside their homes. These poems address the devastating effects of domestic violence and seek to restore one victim's voice, allowing her to speak to and through another generation of women.
---
Poetry is one of the few art forms that enables us to approach extremely difficult and complex human experiences without having to turn to didacticism or preaching. Lund's poems do this exquisitely as they grapple with the intense emotions of a woman trapped in an abusive relationship. Each poem is a compelling piece of a much larger puzzle - one that explores the effects of toxic masculinity and the debilitating fallacy that a woman can free her abuser from his own darkness.
With the concision of Emily Dickinson who taught us to "tell all the truth but tell it slant -," and a stream of consciousness narrative, Lund creates the perfect modality to convey an intense and painful journey that generations of women have experienced.
The result, Un-Silenced, is an absolutely stunning, heart-rattling read that implores us to open our hearts and minds.
-Michael S. Glaser, Poet Laureate of Maryland 2004-2009
A gunshot is fired. Police are called. One could say the sky/turns a deaf ear. In this powerful collection, Elizabeth Lund, the omnipresent speaker, honors a beloved aunt and casts light on other women who have suffered domestic abuse. Through poignant narrative and lyric fragments, Un-Silenced takes us deep into a culture that perpetrates violence against women. Lund gives these women the dignity they deserve while finding solace and closure to her own familial pain. This is a major debut of an authentic, compassionate voice! May all who have been harmed or are in harm's way, directly or indirectly, be blessed by this book's presence in the world.
-Dzvinia Orlowsky, author of Bad Harvest and Silvertone
Elizabeth Lund has captured the sorrow and malevolence of our times in lyrics that are unsparing, mysterious, and defiantly beautiful. I was captivated from first page to last.
-Hilary Holladay, author of The Power of Adrienne Rich: A Biography
$18.00 | ISBN: 978-1-950063-79-6 | 60 Pages
---
Ash by Gloria Mindock from Glass Lyre Press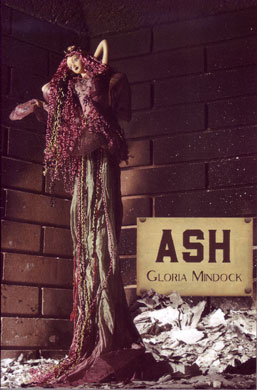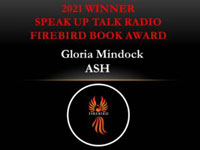 Gloria Mindock is the author of I Wish Francisco Franco Would Love Me (Nixes Mate Books), Whiteness of Bone (Glass Lyre Press), La Portile Raiului (Ars Longa Press, Romania) translated into the Romanian by Flavia Cosma, Nothing Divine Here, (U Šoku Štampa), and Blood Soaked Dresses (Ibbetson). Widely published in the USA and abroad, her poetry has been translated and published into the Romanian, Croatian, Serbian, Montenegrin, Spanish, Estonian, Albanian, bulgarian, Turkish, and French. Gloria has been published in numerous literary journals including Gargoyle, Web Del Sol, spoKe, Constellations: A Journal of Poetry and Fiction, Ibbetson, The Rye Whiskey Review, Muddy River Poetry Review, Unlikely Stories, Pratik: A Magazine of Contemporary Writing and Nixes Mate Review and anthology. Gloria has been awarded the Ibbetson Street Press Lifetime Achievement Award and was the recipient of the Allen Ginsberg Award for Community Service by the Newton Writing and Publishing Center. She received the fifth and fortieth Moon Prize from Writing in a Woman's Voice. Gloria was the Poet Laureate in Somerville, MA in 2017 & 2018.
---
In Gloria Mindock's powerful new book, the flames of love die out and the ashes linger until they dissolve into air. The body is hostage, in charred relics of failed intimacies—The burnt-out ends of smoky days (T.S. Eliot). There's beauty in the truth of Mindock's words and images: Things got smokier, battling the embers with//false waters. And there's hope: Not everyone believes in destruction.// All the heart wants is to beat. Above all, these poems radiate feeling, compassionately aware, attuned to a world of broken love that is burned beyond recognition, the ashes drifting and settling: how much sorrow can this heart take?// There is never an answer. Ash sears and sings.
—Dzvinia Orlowsky, author of Bad Harvest
In Ash, Gloria Mindock writes a gritty, beautifully haunting collection of poetry. Ash is what remains behind after destruction, ruin, death, and burning. Similarly, the poems in this collection are what will remain. Fight the shadows and wade through the darkness on a path paved by Mindock's vivid imagery, stark language, and dynamic voice, all of which, make for a most memorable experience. Now more than ever, we need these poems. With the utmost economy of words, skillful syntax, and emotional connections, each poem reverberates into the depths of your consciousness. Dark, intense, and wholly unique, Ash, by Gloria Mindock is what you've been waiting for—a collection of poetry that consumes and smolders. Are you ready?
—Renuka Raghavan, author of Out of the Blue and The Face I Desire
Gloria Mindock is a poet with singular vision: in Ash, a human heart is rolled out, then baked, then thrown to the birds; broken crucifixes are shoved into junk drawers and gather dust; a spurned/murdered woman turns into a beautiful plant that gives her ex-lover a rash. With mordant, Pinter-esque wit, Mindock explores just how far love, and even human decency, can unravel—to the point of arson, to the point of war.
Ash begin with a series of poems about lethal house fires that may be literal or metaphorical ("my skin was burned by your compulsion to be famous"), then expands to pinpoint the similar essence of human cruelty that enables soldiers to kill. As the narrator of "Doomed by the Numbers" explains: "the fact is people will still go on brutally/killing each other./Who will take my place and write about it?"
Ash concludes with an engaging, Rabelaisian roundelay of voices—mini-plays, summed up in just two stanzas, about complicated relationships between two people.
Once again, with Ash, Mindock proves herself to be unafraid of the dark. She is truly a leading, contemporary master of the edgy.
—Karen Friedland, author of Places That Are Gone and Tales from the Teacup Palace
Passionate and observant, Gloria Mindock is a tragic poet. Her books are wounds revisited. She knows that nothing, never heals.
"With a rolling pin in my hand, I roll your heart out flat... stop it from beating. The redness of blood turns to wax, sticky while wet." (Baked)
She senses the pain of the world in her being.
"The void looms deep, scorched like the desert blowing aimlessly." (Exit)
As her latest book Ash attests without doubt, Gloria is both a warrior and a martyr. Her words are swords that slowly transform into tears.
Her anger at life's injustice is mighty, but mighty is her generosity and her openness towards repair, harmony and universal peace. A must-read Ash conducts the reader through thorny labyrinths of pain and despair, allowing now and then a glimpse of ultimate resolve and liberation in verses of a rare beauty:
"...but gravity is about to free me into space... People will look at me day and night and ask, "what is it?" There is no control over what happens. The cathedral is high and my freckles fell on the floor as I left. Paleness now, that no one sees, but in the universe, I will be a prism." (Gravity)
"...A hunger surrounds us, dust gathers, and is wiped off, space evading all this as songs of the wind come through the window and we all hum." (Room)
—Flavia Cosma, author of In the Arms of the Father, Val-David, QC
$16.00 | ISBN: 978-1-941783-75-7 | 71 Pages
ABOUT THE PRESS
ČERVENÁ BARVA PRESS was founded in April of 2005. The press solicits poetry, fiction, and plays from various writers around the world, and holds open contests regularly for its chapbooks, postcards, broadsides and full-length books. I look for work that has a strong voice, is unique, and that takes risks with language. Please see submission guidelines for current information. I encourage queries from Central and Eastern Europe.

---
---
---