---

Here we go: The next Read America Read Project is August 28th.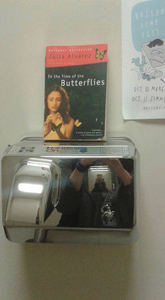 Leave a book for someone to take anywhere you want. This time, ask two people you know to do this also. This way the project will grow each month. I would like a book marker to go in every book so people know where they are coming from. Please e-mail me at the following e-mail address and I will send you an e-mail back with the book marker for you to print out and cut. Thank you for being a part of this project. Lets make August 28th great! Send me photos too. I have a list of names of who participated and as this grows, keep letting me know you are doing this. Thanks a zillion. You all rock. Lets get America reading!!!!
Due to Coronavirus, if we are unable to leave books where we live, just continue to wait until it is safe.
e-mail: gloria@read-america-read.org
Thanks so much,
Gloria

---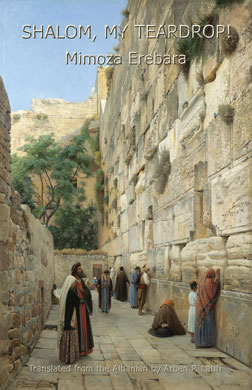 Mimoza Erebara, Jewish / Albanian, was born in Tirana, Albania. She is the author of the following books: "To accompany a hope" (poetry), "Cry of love" (poetry), "Adventures of 10x10 and the Upside Down Munuriro" (Fairy Tale), "Wrongly in Love" (Stories), "Torn Reason" (poetry)), "Symbrapshti" (fairy tale), "Dry rent" (stories), "Peace without a Prophet" (poetry), "He and She: Love Messages" (poetry), "Shalom, my tears" (poetry), "Spirit in the Desert" (poetry), "Philosophy in Metaphor" (literary studies and criticism) and Anthology of Hebrew Poetry. Mimoza has been published in numerous literary magazines in Albania and abroad. He has received "Gold Medals" for poetry from the European Academy of Arts, Paris, France, and many awards in the country. Holds the title "Ambassador of Peace." Mimoza works as a journalist in the daily press in Tirana and editor of many volumes.
Arben P. Latifi graduated in English Studies from the State University of Tirana, Albania [1985]. As an Albanian and US citizen, he is passionate about traveling, world culture, and literature. He has taught English in Albania, USA, Oman, and China. Currently Arben settled back in his native Albania. His Albanian-English, English-Albanian translations, mostly poetry and history, reflects accuracy and faithfulness to the original text, while enhancing its merits through elements such as cohesion, imagery, vocabulary, and musicality. Arben is fluent in English, Albanian, Italian, Greek, and Russian.
---
Shalom, my tears!
The essence of this poetic volume is the universal human love of the individuals who venerate themselves, their past, jealously preserving their identity even in the extreme conditions, is the daughter's love for the father, nation and the Holy Land.
It is the search for a deeper understanding of this inalienable spiritual connection. It is the foremost belief that only this way you can profess eternal love, attaining peace even though you are at war. It is the desire to feel free, where freedom itself morphs its dimensions taking you along for the journey.
This volume accentuates the unconditional love, the sacrifice to keep it inviolable. After all, it is the soul and life of the poetic oneself, the author.
It is the discovery of the soul that transcends us to this. The chance to have all the images in different realms of everyday life that beautifully merge with the divine through elegant details.
A poem that dwells into the mind and sensations of the reader. The visualizations of Israel, country of origin of the author, replace one another, war and peace also shapeshift through significant details.
Prophecies are extant, unforgotten like the Holocaust that transpires through the verses. The historical essence of the holy land itself is vividly ubiquitous.
$8.00 | ISBN: 978-1-950063-27-7 | 28 Pages
---
New Release: How The Twins Grew Up A collection of short stories for children by Milutin Durickovic (chapbook) Milutin Djurickovic was born on 1967 in Decan. He earned his doctorate at the Faculty of Philosophy in East Sarajevo. He works as a professor at the College of Professional Studies for Educators in Aleksinac. Member of the Serbian Royal Academy, World Union of Poets, Association of Writers of Serbia and the Association of Journalists of Serbia. He published 60 books for children and adults (poems, novel, story, critic, monography, anthology...). He lives in Belgrade. $8.00 | ISBN: 978-1-950063-47-5 | 32 Pages
---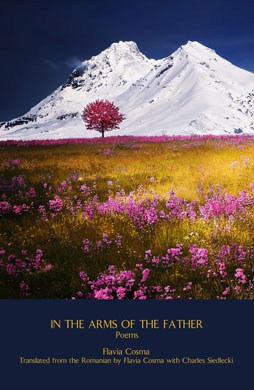 A recipient of the John Dryden Prize for poetry in translation - edition 2007, the poetry collection In the Arms of the Father by Flavia Cosma is a remarkable representation of the high poetic accomplishment of a true "international" author. Flavia Cosma is a Romanian born poet, living in Canada and published widely in numerous countries and languages. Deeply metaphysical, this book gathers between its covers the permanent osmosis of the poet's state of mind and consciousness with the divinity and the wealth of nature. And just under this perspective, wonderful glimpses of the passage of time are coming to life, filtered through Flavia's particular sensitivity. Cosma seems to possess the magic of touching things with words, to caress them, to vivify them. Her inner world finds and receives its necessary living space from a true and real coincidence between man and his surrounding. The influence of multiple poetic traditions, combined with the poet's personality, find in the "Arms of the Father" the dimension absolute that opens up from the concreteness of reality to the mystery of life.
Flavia Cosma is a Romanian-born Canadian writer, poet and translator. She is also a professional photographer and producer, director and screenwriter for television documentary films. Flavia has published poetry, prose, children's literature and travel memoirs. Her books were translated and published in various countries and languages. Flavia has a Master's in Electrical Engineering from the Polytechnic Institute of Bucharest, Romania. Cosma's poetry books Leaves of a Diary, Thus Spoke the Sea and The Latin Quarter were studied at Universities in Canada and USA during the school years 2008, 2014, and 2017. A recipient of several international literary awards Flavia Cosma is the director of The Biannual Writers' and Artists' Festivals at Val-David, Quebec, Canada. www.flaviacosma.com
Charles Siedlecki is an educator, writer, translator and poetry editor living and working in Toronto, Canada. He received a degree in English Literature and Art History from the University of Toronto, and later took a fellowship at AKADEMIA SZTUK PIEKNYCH w WARSZAWIE (The Warsaw Academy of Fine Arts). He received the Third Prize in the 2007 Dryden Translation Competition for co-translating together with Flavia Cosma her poetry book In the Arms of the Father-prize awarded by British Comparative Literature Association/British Centre for Literary Translation. Charles Siedlecki's poetry collection Somewhere in the Universe was published by KCLF-21 Press, Toronto in 2008.
---
Embraced by lush foliage and endearing forest friends in the real and imagined world, Flavia Cosma's poems are inhabited by all of these in a larger cosmic understanding; lit by a spiritual incandescence that few possess in this worldly world. Her poems are havens of precious moments lingering over metaphors of porcupines and snakes, spiders and dogs, lion-fish, peacocks and crows, the wind and rain, seasons, blue snow and a purple wave that spills onto blank sheets of paper. Her lines "The returning steps of the Poet / On silks filled with grace" is for me Flavia walking her words. While her words have soft contours, they also alert us to the harsh realities of "Air no longer reaching the lungs / Dissolves into fog / And screams," reminding us of the current pandemic in the world. As a line in her meditative book says "He, who is consumed by fire will never rot," I believe this is true of poet Flavia Cosma who is a gentle flame and her words will live forever.
"All manner of thing shall be well
When the tongues of flames are in-folded
Into the crowned knot of fire
And the fire and the rose are one." T.S. Eliot
-Bina Sarkar Ellias, Poet, Art curator, Editor, Designer & Publisher Int. Gallerie, Mumbai, India
Flavia Cosma always delivers. Her latest book, In the Arms of The Father, is a delight. Evident once again is her exemplary language of the senses that is startling and beautiful as it expresses harmony with self and the universe. The spirituality inherent in Cosma's language is undeniable. Enjoy the lyrical journey that is provided by this fascinating poetry collection.
-Alan Britt, Dream Highway
Towson University
$18.00 | ISBN: 978-1-950063-05-5 | 102 Pages
---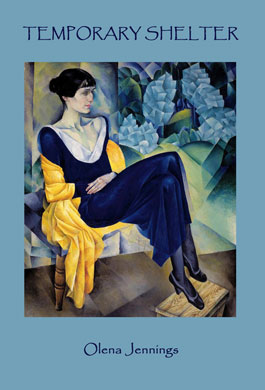 Olena Jennings is the author of the poetry collection Songs from an Apartment and the chapbook Memory Project. Her translation with Oksana Lutsyshyna of Artem Chekh's Absolute Zero was released in 2020 by Glagoslav. She and Iryna Shuvalova translated Pray to the Empty Wells by Iryna Shuvalova published by Lost Horse Press in 2019. She holds an MFA from Columbia University and an MA from the University of Alberta. She is the founder and curator of the Poets of Queens reading series.
---
"A scintillating and poetic novel, brimming with imagination, historical details, and profound emotional truths."
-Jennifer Croft, author of Homesick
"A thoroughly timely novel about the past. Jennings envisions Anna Akhmatova struggling against gender expectations and heteronormativity-even among fellow bohemians in 1910s St. Petersburg. Through many challenges, Akhmatova in Temporary Shelter remains committed to her individual identity and purpose. The novel is gorgeously written; Jennings's background as a poet and translator shines with imagery that is at once surprising and precise, sparse and sensuous."
-Olga Livshin, author of A Life Replaced, poems with translations from Anna Akhmatova and Vladimir Gandelsman
$18.00 | ISBN: 978-1-950063-45-1 | 164 Pages
---
New Release: Everyday Divine by Noel Sloboda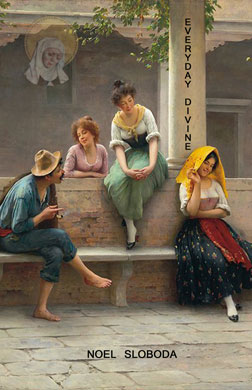 Noel Sloboda earned his Ph.D. from Washington University in St. Louis. His dissertation about Edith Wharton and Gertrude Stein became a book. He sat on the board of directors for the Gamut Theatre Group for a decade, while serving as dramaturg for its nationally recognized Shakespeare company. Sloboda has published two poetry collections, six chapbooks, and hundreds of poems in journals and magazines. He is currently an Associate Professor of English at Penn State York.
In Everyday Divine, Noel Sloboda presents a sequence of poems about saints. These figures stand with one foot in the realm of the secular, the other in the realm of the sacred. At the same time, Sloboda pushes hagiography outside of familiar contexts, revealing myriad new saints out there just waiting to be discovered. Readers of Everyday Divine will catch "The Patron Saint of Shoplifters" filching a candy bar, listen to rumors spread by "The Patron Saint of Gossip," and find themselves stuck in traffic behind "The Patron Saint of Rubberneckers." In some of Sloboda's saints, readers will also identify parts of themselves, thereby glimpsing connections to others.
---
I've been a fan of Noel Sloboda's work for about ten years. Everyday Divine is a series of "patron saints," portraits of everyday people told with insight and gentle humor. Sloboda serves up fresh text with lively, palpable metaphors. The result is enjoyable, very readable poetry.
-John Philip Johnson, Pushcart Prize-winning poet, author of The Book of Fly
Through everyday characters, Noel Sloboda's Everyday Divine makes the reader reconsider what he or she takes for granted. Whether it be a character reevaluating his anxieties, a shoplifter stealing out of need and transforming the act into performance art, or because of line breaks like "Always says never imagine // this will not happen / again," the reader's expectations are upended. Like all good art, these poems challenge the reader's everyday habits of perception for the better.
-Tom Holmes, editor of Redactions: Poetry & Poetics
$8.00 | ISBN: 978-1-950063-06-2 | 30 Pages
---
Ash by Gloria Mindock from Glass Lyre Press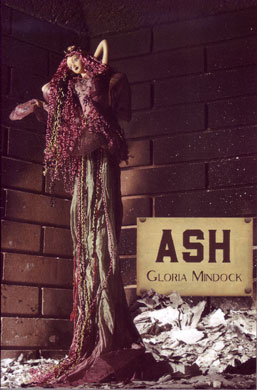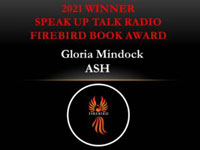 Gloria Mindock is the author of I Wish Francisco Franco Would Love Me (Nixes Mate Books), Whiteness of Bone (Glass Lyre Press), La Portile Raiului (Ars Longa Press, Romania) translated into the Romanian by Flavia Cosma, Nothing Divine Here, (U Šoku Štampa), and Blood Soaked Dresses (Ibbetson). Widely published in the USA and abroad, her poetry has been translated and published into the Romanian, Croatian, Serbian, Montenegrin, Spanish, Estonian, Albanian, bulgarian, Turkish, and French. Gloria has been published in numerous literary journals including Gargoyle, Web Del Sol, spoKe, Constellations: A Journal of Poetry and Fiction, Ibbetson, The Rye Whiskey Review, Muddy River Poetry Review, Unlikely Stories, Pratik: A Magazine of Contemporary Writing and Nixes Mate Review and anthology. Gloria has been awarded the Ibbetson Street Press Lifetime Achievement Award and was the recipient of the Allen Ginsberg Award for Community Service by the Newton Writing and Publishing Center. She received the fifth and fortieth Moon Prize from Writing in a Woman's Voice. Gloria was the Poet Laureate in Somerville, MA in 2017 & 2018.
---
In Gloria Mindock's powerful new book, the flames of love die out and the ashes linger until they dissolve into air. The body is hostage, in charred relics of failed intimacies—The burnt-out ends of smoky days (T.S. Eliot). There's beauty in the truth of Mindock's words and images: Things got smokier, battling the embers with//false waters. And there's hope: Not everyone believes in destruction.// All the heart wants is to beat. Above all, these poems radiate feeling, compassionately aware, attuned to a world of broken love that is burned beyond recognition, the ashes drifting and settling: how much sorrow can this heart take?// There is never an answer. Ash sears and sings.
—Dzvinia Orlowsky, author of Bad Harvest
In Ash, Gloria Mindock writes a gritty, beautifully haunting collection of poetry. Ash is what remains behind after destruction, ruin, death, and burning. Similarly, the poems in this collection are what will remain. Fight the shadows and wade through the darkness on a path paved by Mindock's vivid imagery, stark language, and dynamic voice, all of which, make for a most memorable experience. Now more than ever, we need these poems. With the utmost economy of words, skillful syntax, and emotional connections, each poem reverberates into the depths of your consciousness. Dark, intense, and wholly unique, Ash, by Gloria Mindock is what you've been waiting for—a collection of poetry that consumes and smolders. Are you ready?
—Renuka Raghavan, author of Out of the Blue and The Face I Desire
Gloria Mindock is a poet with singular vision: in Ash, a human heart is rolled out, then baked, then thrown to the birds; broken crucifixes are shoved into junk drawers and gather dust; a spurned/murdered woman turns into a beautiful plant that gives her ex-lover a rash. With mordant, Pinter-esque wit, Mindock explores just how far love, and even human decency, can unravel—to the point of arson, to the point of war.
Ash begin with a series of poems about lethal house fires that may be literal or metaphorical ("my skin was burned by your compulsion to be famous"), then expands to pinpoint the similar essence of human cruelty that enables soldiers to kill. As the narrator of "Doomed by the Numbers" explains: "the fact is people will still go on brutally/killing each other./Who will take my place and write about it?"
Ash concludes with an engaging, Rabelaisian roundelay of voices—mini-plays, summed up in just two stanzas, about complicated relationships between two people.
Once again, with Ash, Mindock proves herself to be unafraid of the dark. She is truly a leading, contemporary master of the edgy.
—Karen Friedland, author of Places That Are Gone and Tales from the Teacup Palace
Passionate and observant, Gloria Mindock is a tragic poet. Her books are wounds revisited. She knows that nothing, never heals.
"With a rolling pin in my hand, I roll your heart out flat... stop it from beating. The redness of blood turns to wax, sticky while wet." (Baked)
She senses the pain of the world in her being.
"The void looms deep, scorched like the desert blowing aimlessly." (Exit)
As her latest book Ash attests without doubt, Gloria is both a warrior and a martyr. Her words are swords that slowly transform into tears.
Her anger at life's injustice is mighty, but mighty is her generosity and her openness towards repair, harmony and universal peace. A must-read Ash conducts the reader through thorny labyrinths of pain and despair, allowing now and then a glimpse of ultimate resolve and liberation in verses of a rare beauty:
"...but gravity is about to free me into space... People will look at me day and night and ask, "what is it?" There is no control over what happens. The cathedral is high and my freckles fell on the floor as I left. Paleness now, that no one sees, but in the universe, I will be a prism." (Gravity)
"...A hunger surrounds us, dust gathers, and is wiped off, space evading all this as songs of the wind come through the window and we all hum." (Room)
—Flavia Cosma, author of In the Arms of the Father, Val-David, QC
$16.00 | ISBN: 978-1-941783-75-7 | 71 Pages
ABOUT THE PRESS
ČERVENÁ BARVA PRESS was founded in April of 2005. The press solicits poetry, fiction, and plays from various writers around the world, and holds open contests regularly for its chapbooks, postcards, broadsides and full-length books. I look for work that has a strong voice, is unique, and that takes risks with language. Please see submission guidelines for current information. I encourage queries from Central and Eastern Europe.

---
---
---