---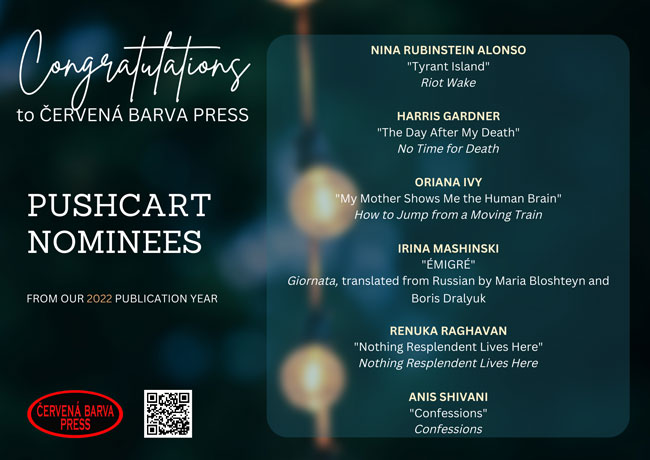 ---

Here we go: The next Read America Read Project is November 26th.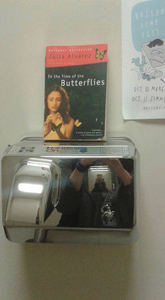 Leave a book for someone to take anywhere you want. This time, ask two people you know to do this also. This way the project will grow each month. I would like a book marker to go in every book so people know where they are coming from. Thank you for being a part of this project. Lets make November 26th great! Send me photos too. I have a list of names of who participated and as this grows, keep letting me know you are doing this. Thanks a zillion. You all rock. Lets get America reading!!!!
e-mail: gloria@read-america-read.org
Thanks so much,
Gloria

---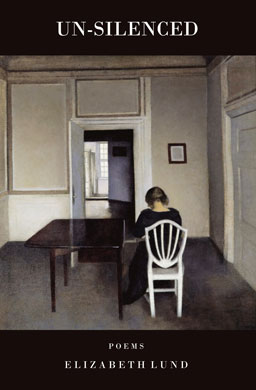 Elizabeth Lund is the award-winning host of Poetic Lines, which features in-depth interviews with established and emerging poets. She also covers poetry for major publications, including The Christian Science Monitor, where she edited poetry for ten years. From 2015 through 2019 she wrote a monthly poetry column for The Washington Post. Her own poems have appeared in the US, the UK, and Canada. She has read and appeared at a variety of festivals, most recently the Gaithersburg Book Festival, where she served as the final judge for the 2020 high school poetry contest.
Long before 2020, when the world began grappling with a pervasive pandemic that resulted in widespread personal isolation, another type of malevolence locked many women inside their homes. These poems address the devastating effects of domestic violence and seek to restore one victim's voice, allowing her to speak to and through another generation of women.
---
Poetry is one of the few art forms that enables us to approach extremely difficult and complex human experiences without having to turn to didacticism or preaching. Lund's poems do this exquisitely as they grapple with the intense emotions of a woman trapped in an abusive relationship. Each poem is a compelling piece of a much larger puzzle - one that explores the effects of toxic masculinity and the debilitating fallacy that a woman can free her abuser from his own darkness.
With the concision of Emily Dickinson who taught us to "tell all the truth but tell it slant -," and a stream of consciousness narrative, Lund creates the perfect modality to convey an intense and painful journey that generations of women have experienced.
The result, Un-Silenced, is an absolutely stunning, heart-rattling read that implores us to open our hearts and minds.
-Michael S. Glaser, Poet Laureate of Maryland 2004-2009
A gunshot is fired. Police are called. One could say the sky/turns a deaf ear. In this powerful collection, Elizabeth Lund, the omnipresent speaker, honors a beloved aunt and casts light on other women who have suffered domestic abuse. Through poignant narrative and lyric fragments, Un-Silenced takes us deep into a culture that perpetrates violence against women. Lund gives these women the dignity they deserve while finding solace and closure to her own familial pain. This is a major debut of an authentic, compassionate voice! May all who have been harmed or are in harm's way, directly or indirectly, be blessed by this book's presence in the world.
-Dzvinia Orlowsky, author of Bad Harvest and Silvertone
Elizabeth Lund has captured the sorrow and malevolence of our times in lyrics that are unsparing, mysterious, and defiantly beautiful. I was captivated from first page to last.
-Hilary Holladay, author of The Power of Adrienne Rich: A Biography
$18.00 | ISBN: 978-1-950063-79-6 | 60 Pages
---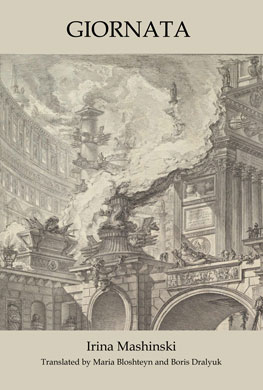 Irina Mashinski was born and raised in Moscow. She graduated from Moscow University, where she studied theory of landscape and completed her PhD in paleoclimatology. In 1991, she emigrated to the United States, where she taught high school mathematics as well as literature, history, and meteorology at several universities. Mashinski is the author The Naked World (MadHat Press, 2022) and of eleven books of poetry and essays in Russian. She is co-editor, with Robert Chandler and Boris Dralyuk, of The Penguin Book of Russian Poetry (Penguin Classics, 2015) and of Cardinal Points, the journal of Brown University's Slavic Department. Her work has been translated into several languages and has appeared in numerous journals and anthologies both in the US and internationally. Website: www.irinamashinski.com
---
Irina Mashinski is a poet who has the rooting feeling for the tag game played between the inapposite and the apposite. Accordingly, nothing is off-limit because there is no limit for a poet who can be microscopic and cosmic, offhand and adjuring, and who, above all, is willing to descend and ascend-again, without limits. The long central poem In Absentia is a tour de force of relentless probing of loss and the innumerable, parti-colored shards that accompany loss, the drear yet enticing yet shattering yet sustaining landscape of memories. The translations bring a wonderfully attentive ear to the page, one that delights in the resonances and the cadences of English. All in all, this book is a book of poems to live with, containing the vastness and fearlessness we all hope to find in poetry.
-Baron Wormser, author of Legends of the Slow Explosion
If poetry is the language capable of shedding light on the things beyond, the things in between, then Irina Mashinski illuminates them - to the very core of our existence.
-Lothar Quinkenstein, author of Souterrain and translator of Olga Tokarczuk
Irina Mashinski's poems in Giornata inhabit the landscape of elegy and exile, as well as the actual landscape of rural America. She forgets nothing, asking without self-pity, "Who's left?" These translations feel wholly original, rich in music, but mostly rich with the poet's sensibility, the tenderness with which she opens to her losses and offers them to us, like her grandmother's "Moscow teacups" an image so simple and so arresting. Mashinski teaches us to reckon with the past, to know the world as inherently elegiac, and yet to also be tied to the moment, to love the moment, not missing anything, not the clouds blooming outside her window, or the detritus on the forest floor. These are poems to return to and live with.
-Anne Marie Macari, author of Heaven Beneath
Irina Mashinski's poetic eye has such range, it seems to move above the earth and see both the changing of landscapes and the shift between eras with equal ease. There is also an underlying cheerful quality about the poems, which could be straight elegies for our terrible centuries and histories but somehow refuse to give in to undiluted sadness. These new translations convey the purity and fineness of Mashinski's work, whilst conveying its formal complexity - a rare feat.
-Alexandra Dugdale, author of Deformations and Joy
Giornata. A day's work on a fresco, on a true fresco, buon, where the pigment is permanently fused with the plaster, where the vision, the dream, becomes one with its surface, where the day does not just point to its mystery, it is our mystery. In these poems, Irina Mashinski migrates between Russia and the U.S., between her past and present, between memory and memory. In so doing, she teaches me what cannot ever be left or lost: this moment, our now. Mashinski is a poet's poet. I am in awe. -Rebecca Gayle Howell, author of American Purgatory and Render / An Apocalypse
$18.00 | ISBN: 978-1-950063-60-4 | 94 Pages
---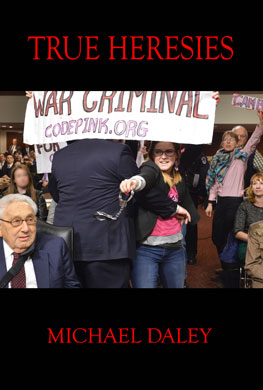 Michael Daley was born and raised in Dorchester, Massachusetts. He holds a B.A. from the University of Massachusetts and an M.F.A. from the University of Washington. His work has been awarded by Seattle Arts Commission, Washington State Arts Commission, Massachusetts Cultural Council, Fessenden Foundation, National Endowment of the Humanities, Fulbright, The Skagit River Poetry Foundation, and The Poets House Trust. A retired teacher, he lives near Deception Pass in Washington.
True Heresies is a cocktail of rage, anti-poems, and dissonant songs; this collection takes a swing or two at several revered institutions and dogmata. Some of the topics addressed here are exhumed from contemporary headlines, historical events often obscured by our collective distractions; at the unconscious fringe of philosophical meddling, some of these poems voice the suppressed terrors of today's imminent dystopia. True Heresies calls out from necessity that shout in the street that is divine while remaining profoundly human. In an age when taking anything on faith is a challenge, these poems like bells peal forth their questions.
---
Mouth-filling! Mind-bending! A total trip! The images, references, and connections come so fast and furious, it's hard to catch my breath! These poems have some serious juice-the first one is SO intense-it seems to contain the outlines of all the rest-and from there, the poems slow a bit, and focus more closely, as if through squinted eyes, but never losing momentum.
-Marjorie Rommel, Poet Laureate Emerita, Auburn, Washington
I have no idea how these poems were conceived, whether in a boil after two weeks in the darkest recesses of a cave, or upon watching disastrous election returns on a continuous loop, or as one poem title suggests, at 35,000 feet while listening to The Odyssey, but they are bursting with classical and backwoods tragedies, passions, and humors (clever and ill), and they are excellent, challenging company.
-Kathleen Flenniken, former Washington State Poet Laureate
Michael Daley's poems are waiting for a world to be finished (and that is meant in both senses of the word). They are both powerfully evocative of the nothingness holding the living in its thrall and the dialectical affirmations of its images, whose textures confront that nothingness and insist on overcoming its negations. A book of poems that strengthens the soul.
-Jack Hirschman, Poet Laureate Emeritus, San Francisco, California
True Heresies is an American original, filled to overflowing with a unique voice and an idiosyncratic turn of mind. Daley's words and images can make a reader's head spin for a long time after the book is closed. It will enlarge your perceptions of what poetry can do. He makes conventional poems taste like sour milk. His work can fleece the reader raw.
-Louis Phillips, author of How Wide the Meadow
"Great literature," Ezra Pound famously said, "is simply language charged with meaning to the utmost possible degree." Michael Daley's poems most certainly are highly charged. "Language," he writes in one poem, "is tied to every atom." And that charge creates a kind of nuclear fusion that bonds music to meaning. In True Heresies, the music is often furious and symphonic, the meaning often a savage reflection of a fractured age, a time of climate disruption we ourselves have brought on and, as of now, appear to be doing very little to prevent what seems like a chain reaction. Daley's poems are the Greek chorus, the heretics who speak the sometimes-unspeakable truths we wish we could avoid.
-Ed Harkness, author of The Law of the Unforeseen
Cover photo: © Jay Mallin/ZUMA Press
$18.00 | ISBN: 978-1-950063-63-5 | 96 Pages
---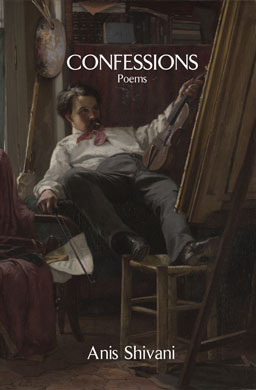 Anis Shivani is a poet, fiction writer, and literary critic living in Houston, Texas. His critically acclaimed books include Anatolia and Other Stories, The Fifth Lash and Other Stories, Karachi Raj: A Novel, My Tranquil War and Other Poems, Whatever Speaks on Behalf of Hashish: Poems, The Moon Blooms in Occupied Hours: Poems, Soraya: Sonnets, Against the Workshop: Provocations, Polemics, Controversies, and Literary Writing in the Twenty-First Century: Conversations. His work appears widely in such journals as the Yale Review, Georgia Review, Southwest Review, Boston Review, Threepenny Review, Michigan Quarterly Review, Antioch Review, Black Warrior Review, Western Humanities Review, Boulevard, Pleiades, AGNI, Fence, Denver Quarterly, The Journal, Gulf Coast, Third Coast, Volt, Subtropics, New Letters, Times Literary Supplement, London Magazine, Cambridge Quarterly, Meanjin, Fiddlehead, Dalhousie Review, Antigonish Review, and elsewhere. He has also written for many magazines and newspapers including Salon, Daily Beast, AlterNet, CommonDreams, Truthout, Huffington Post, Texas Observer, In These Times, Boston Globe, San Francisco Chronicle, Kansas City Star, Pittsburgh Post-Gazette, St. Petersburg Times, Baltimore Sun, Charlotte Observer, Austin American-Statesman, and elsewhere. He is the winner of a Pushcart Prize, and a graduate of Harvard College.
---
"Defiant, deft, bound to the imagination and the practice of the poet's craft, Anis Shivani's Confessions has given us much to appreciate. This startling work resists the easy spectacle poetry, and even confessions themselves, often offer the heart. Instead, Shivani's lucid perceptions expose, darkly, and incandescently, too, the aches and auguries of that which is spoken and unspoken through language. These inseparable collisions of ecstatic and ordinary life, the world and the word, intellect and instinct, are visceral in discovery and intimacy. We, too, become fortunate travelers hurtling inside the prowess of Shivani's polyphonic acts. Confessions is the voice of an expansive mind, deeply conscious and deservedly celebratory of its own free textures and countries."
-Rachel Eliza Griffiths, award-winning author of Mule & Pear, Lighting the Shadow, and Seeing the Body
PRAISE FOR ANIS SHIVANI'S POETRY
"Anis Shivani evidently inhabits a world in which every moment of time in the past, present, and a humorously but lethally prophesied future, occurs simultaneously and is animated by a wit sometimes subtle, sometimes savagely indignant. Its two faces join forces and somehow manage to speak in unison of what they actually see and think. I sense everywhere an undercurrent of compassion and identification, a poignant humanity and sense of responsibility underneath his torrential voice."
-Franz Wright
"When I first plunged into Anis Shivani's work, I had the impression two of my most admired dead poet friends were one-upping each other in the afterlife-Tom Disch with his straight-faced drop-dead virtuoso satire of literary and political pretension and Aga Shahid Ali with his eloquent, global, polyglot formal legerdemain-both of them knowing more about history and about literature than ninety-nine percent of their readers. But Shivani's poems are no phantoms, they are vibrant, new, knowledgeable, daring, and welcome."
-Marilyn Hacker
"Anis Shivani's poetry is remarkable for its continuing preoccupation with literature, culture, and language, and a discourse that incorporates the written word, the oral tradition, and the imagery of art and film. His cerebral poems often border on the obscure, but constantly challenge the reader to unravel deeply embedded references, suggestions, and innuendoes. The innovative use of words and sounds that draw on myriad languages and cultures adds to the rich texture of each poem."
-Muneeza Shamsie
$18.00 | ISBN: 978-1-950063-29-1 | 102 Pages
---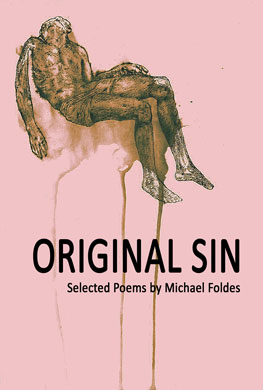 Michael Foldes (b 1946) is an American poet, publisher, author and businessman. Born in Baltimore, MD, he grew up in Endwell, New York, later graduating from The Ohio State University in anthropology. In 2004, Foldes founded Ragazine.cc, a free, global, online magazine of art, information and entertainment. The bimonthly zine ceased publication in December 2019. Partial archives remain online at www.ragazine.cc.
Foldes's publications and projects include the anthologies "Stopped Dead: The End of Poetry," "In an Early Hour," and "Sand and Snow"; Sleeping Dogs: A true story of the Lindbergh baby kidnapping" (Split Oak Press, Ithaca, NY, 2012), and Sandy: Chronicles of a Superstorm in collaboration with artist Christie Devereaux. In 2017, he completed "Fashions & Passions" a series of ekphrastic poems in collaboration with artist Christopher Panzner. Panzner and Foldes recently completed a second collection titled "End Game," 75 poems with images created by Panzner in response to the poems. His poetry collection Some Stuff is available as a Kindle edition on Amazon.
Foldes's articles, editorials, poems, reviews, interviews and stories have appeared in publications worldwide, some in translation in Romanian, Hungarian, Japanese, French and Spanish. Publishing credits include l'Oeil de la Photographie, Where is the Jazz Festival, Mobius, Southern Literary Review, the Village Voice, High Times, The Seventh Quarry, Paterson Literary Review, CLH/Romania, We Are You Poetry anthology, From the Finger Lakes, Folazil (France), and Rosebud, among others. An interview with Foldes by Carol Smallwood appeared in the Scarlet Leaf Review, and in Wilderness House Literary Review.
His jobs have included lifeguard, grocery store bagger, potato peeler, construction worker, magazine editor, newspaper editor, social worker, electronic component sales rep, and medical video products sales engineer. One of his favorite gigs was bartending at the National Poetry Society in Earl's Court Square, London, where the Guinness was warm and the patrons amazing.
He and his wife have three children and two grandchildren. They live in New York's Southern Tier a few hundred yards from the Susquehanna River.
---
Don't expect to find a bouquet of poems neatly tied together by a common theme or style; if anything brings these highly divergent poems together, it is probably the date of their creation as the fruits of the same harvest season, a recent one. Mike Foldes always tends to be very eclectic, open to any style, any theme, but in each of his poems, no matter how unique, his voice sounds authentic whether he speaks of personal experiences or editorializes on current political events. None of the poems are made to order; they all just seem to have burst out from the creative nook of the poet's mind and dictated their own style. Some readers-whether they be critics or just lovers of poetry-may find themselves at a loss faced with such wide range of eclecticism, but I applaud it and the poet's unhesitating answer to an inner call; however, my favorites are the short spiffy ones that say more by telling less, such as the footballer and gravity: "...when gravity / takes me where / all things go, / pray / what's there / will make me / the believer / you said / i would become."
-Paul Sohar, a fellow poet and occasional critic; author of "In Sun's Shadow"
Mike Foldes's chapbook, "Original Sin," weaves a fine-spun and well-designed American "poetic" carpet knit together with vibrant words, which are not mild incantations, but rather words that allow readers to confront their greatest fears (i.e., aging, illness, impotence, war, loveless love, betrayal, darkness, or the current global rise of right-wing totalitarian fascism). For instance, in precise "clear-cut" language, in the poem "The Sedition Edition," Foldes captures the full anti-American treasonous horror of January 6, 2021's U.S. Capitol insurrection.
-Jose Rodeiro, recipient of an NEA, Fulbright Fellowship, and an Oscar B. Cintas Fellowship in painting
"where do we go/ from here?/ where is the ladder?/ where are the stars?" asks the final poem in this thoughtful, outrageous chapbook. Original Sin deftly encapsulates the pandemic, a year like no other, filled with love lost, insurrection, aging, drugs, death, and, yes, love found again. Foldes asks the hard questions. His answers might surprise you.
-Alexis Rhone Fancher, author of Explicit: New & Selected, poetry editor, Cultural Daily
Cover Art: Christopher Panzner
$13.00 | ISBN: 978-1-950063-73-4 | 45 Pages
---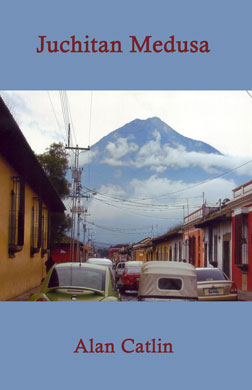 Alan Catlin is retired from a long career in his unchosen profession in the "hospitality industry." He has published well over sixty chapbooks and full-length books of poetry and prose. Most recently his fictional memoir/ novel Chaos Management was published by Alien Buddha and is available on Amazon, as are many of his recent publications on a wide variety of subjects from art, to bar wars, to self-portraits that aren't self-portraits, to a series of book length memories which aren't "memories" per se, among many others. He won the 2017 Slipstream Chapbook Award for Blue Velvet, the first of eleven chapbooks channeling noir movies. Two of his books were named Most Neglected Books of the Year by the late Marvin Malone, editor of the legendary Wormwood Review.
Cover Photography: Susanna Lewis
$13.00 | ISBN: 978-1-950063-72-7 | 29 Pages
---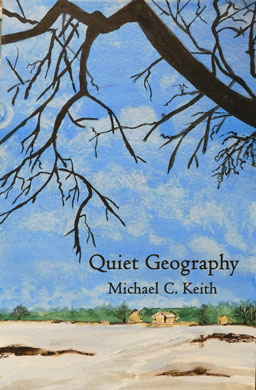 Michael C. Keith is the author or coauthor of more than two dozen groundbreaking books on electronic media, including one chosen by President Clinton for his official summer reading list. Beyond that, he is the author of an acclaimed memoir (The Next Better Place, Algonquin Books), a young adult novel, and 19 story collections- his latest Insomnia 11 from MadHat Press and Pieces of Bones and Rags from Cabal Books. He has received accolades for his academic and fiction writing.
In the tradition of the classic micro-fiction of renowned writer Lydia Davis, this singular collection explores the full range of human endeavor and behavior in all their varied and discrete (and not so discrete) manifestations. Keith's mini-stories, perhaps more appropriately called prose/poetry because of their lyrical nature, take the reader to places only a truly vivid and original imagination could. Often disquieting in theme and plot, the pieces within these covers invariably contain meaningful truths and lessons while managing to accomplish this in a witty and affecting manner.
---
In Quiet Geography, Michael C. Keith fashions a multitude of miniature worlds, and in each one he finds the perfect narrative distance and tone of voice to infuse the comic with the dark and the dark with the comic. Unique, yet intentionally ambiguous, these micro-stories are shapeshifters. Chameleon-like, Keith's creations change color and reveal different patterns so the reader may respond differently each time he or she re-reads them. These wry, richly detailed flash fictions repay each reading by offering gem-like, myriad angles of reflection.
-Allen Wier, author of Tehano and Late Night, Early Morning
Quiet Geography's cleverly dark humor stays lively throughout. It normalizes the strange and estranges the normal. There are cynical vibes, but they're not overwhelming; besides, as someone (Seneca?) said, cynics are really idealists at heart. It's good to know Michael C. Keith is out there demonstrating the delights of idealistic cynicism. This is one of the best reads I've had this year.
-Betsy Delmonico, editor-in-chief Golden Antelope Press
$18.95 | ISBN: 978-1-950063-74-1 | 194 Pages
---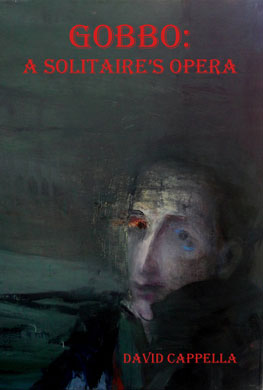 David Cappella, Professor Emeritus of English and the 2017/2018 Poet-in-Residence at Central Connecticut State University, has co-authored two widely used poetry textbooks, Teaching the Art of Poetry: The Moves and A Surge of Language: Teaching Poetry Day to Day. He won the Bright Hill Press Poetry Chapbook Competition in 2006. His poems and essays have appeared in various literary journals and anthologies in the US and Europe. His novel, Kindling, has been called "a powerful and devastating coming-of-age story." Visit his university web site: http://webcapp.ccsu.edu/?fsdMember=249
Note to the Reader
Gobbo: A Solitaire's Opera is a "natural opera." That is, it is the emotional arc of a poet's life rendered in poetry. The sonnet sequence is divided into three acts much like a formal opera, and it is loosely based on the life of the Italian poet, Giacomo Leopardi. His life, fraught with emotional and physical pain, did not stop him from writing some of the most exquisite lyrical poetry of his age, of all time. His view of human nature, of mankind in general was dark, but this was not necessarily because he was physically misshapen, though some think that is the case. Whatever his view of humanity or whatever his emotional and physical pain, Leopardi demonstrated great courage in the face of adversity while his poetry transcended his life.
Though the emotional life of Gobbo follows the life of Leopardi, his voice is, most assuredly, not Leopardi's. The voice of Gobbo is the consciousness of a poet living his life. He is the artist navigating the world. Gobbo: A Solitaire's Opera is not an historical or a biographical document.
---
"David Cappella's Gobbo is truly operatic as it makes us feel the heart and soul of a tortured yet remarkable poet. Through the deft use of form, Cappella maintains a constant window on a changeable man. Each aria-like poem articulates an aspect of Gobbo's experience while creating, as in opera, a powerful emotional skein. This is a life of a poet in poems. As such, its relevance is timeless."
-Baron Wormser
"It is difficult for us who live in an anti-romantic age to grasp the consciousness of the romantic poet without the aura of the decorative, or the merely forlorn, obstructing our appreciation. We may sense a great reduction has come to pass regarding the ways of being available to a poet in today's world. In these poems, from the first act of David Cappella's Gobbo: A Solitaire's Opera, we are given, again, what poets in western societies have lost, the exquisitely articulated desires and claims of the young poet who has "no loves, no friends, nothing, just [his] studies" and yet, through the exercise of an intense imagination, finds comfort and confirmation in nature, books, language itself, and encounters with the beautiful and the infinite. It is high, grand stuff, true art, when a poet can embody the dance that transpires between the imagination and life lived in response to perceptions and circumstances. This is what David Cappella has created with delicacy and balance."
-Gray Jacobik
Cover art: "One / Leopardi" by Britta Winkels
$18.00 | ISBN: 978-1-950063-15-4 | 106 Pages
---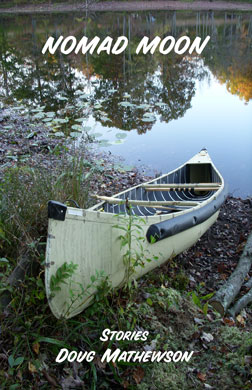 Doug Mathewson writes short, and even shorter fiction. His work has appeared here and there, now and then due to the kindness and forgiving nature of numerous editors to whom he is most sincerely grateful. He is the editor of Blink-Ink www.blink-ink.org Also he sweeps up and does odd chores for The Mambo Academy of Kitty Wang. More of his work can be found at Little 2 Say www.little2say.org
Nomad Moon is a collection of twenty four short stories by Doug Mathewson. They have been described as "True stories from imaginary lives." Every one is true except for the pretend and made up parts. Some stories are sad, and some humorous, but all showing the authors love of life and human kind.
$13.00 | ISBN: 978-1-950063-56-7 | 27 Pages
---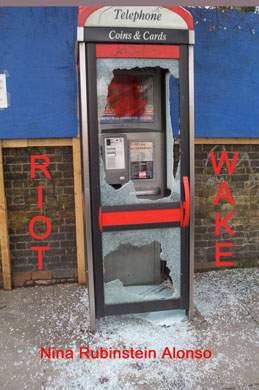 Nina Rubinstein Alonso's poetry and stories have appeared in Ploughshares, The New Yorker, U. Mass. Review, Writing in a Woman's Voice, Nixes Mate, Ibbetson Street, Broadkill Review, Southern Women's Review, Peacock Journal, Sumac, Wilderness House, The New Boston Review, Pensive Journal, Taj Mahal Review, etc. Her book This Body was published by David Godine Press, her story collection A Dancer's Notebook and a novel Balancing on One Leg are in the works. She's the editor of Constellations: a Journal of Poetry and Fiction and has published the 11th issue. She taught at Boston Ballet for eleven years and continues as director and teacher of Fresh Pond Ballet.
---
"Do you ever feel a "wow moment" when reading a poet's work? It might be an idea, poetic lines or a usage of words that say this poet is unique. Nina R. Alonso's Riot Wake is full with such lines as: "seeing women in black veils/ wrapped like moths at night." Alonso's observations of people and places is like walking the Earth with a magnifying glass. Her poetry is intriguing, inspired and insightful. It is a book not soon forgotten."
-Zvi A. Sesling
Riot Wake is outstanding. The poems are intelligent, lyrical and so precisely observed. The collection as a whole is carefully organized to give us the arc of the story: beauty and repression. Nina Alonso speaks to us personally and frankly out of each one of these perfect poems. These poems will echo in your heart forever. The collection is timely and will be a classic for years to come.
-Kathleen Spivack, author of Unspeakable Things
"The word "unique" may be used till the devil take it, but here it applies appropriately to Nina Alonso's "Riot Wake" which portrays an inner journey through sites as disparate as El Camino in Spain and a Harvard Square reduced to rubble by rioters. There's psychic pain and suffering as these poems ride their course, while in greater measure there's delight in how they honor the eye and ear, line by line, with masterly performance. This is a goddam good chapbook."
-Tomas O'Leary
"Nina Alonso is a dancer. And in the case of her poetry there seems to be a slow motion, wandering sensibility to her work. And indeed as she traveled through Morocco and Spain with her late husband her wanderlust brings the reader to the face of intriguing and beautiful imagery. In Tangiers, she sees "women in black veils/ wrapped like moths at night." She resurrects an acid trip in a fluorescent diner that dances with light and distortion. There is a sense of mystery throughout this collection...of seeing the unseen...the past with all its pain and allure."
-Doug Holder
$13.00 | ISBN: 978-1-950063-34-5 | 50 Pages
---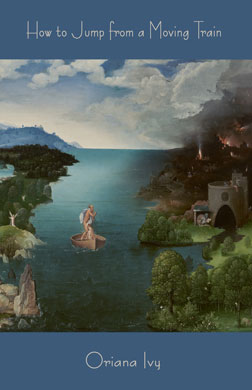 Oriana Ivy was born and raised in Poland. She came to the United States when she was 17. Her poems, essays, book reviews, and translations have been published in Poetry, Ploughshares, Best American Poetry, Nimrod, Spoon River Review, The Iowa Review, Black Warrior Review, Los Angeles Review of Books and many others. She's the prize winning author of the chapbooks April Snow (Finishing Line Press) and From a New World (Paper Nautilus). A former journalist and community college instructor, she leads an online Poetry Salon. Her poetry-and-culture blog, oriana-poetry.blogspot.com, has gained an international audience. She lives in Southern California.
How to Jump from a Moving Train offers an interweave of immigrant experience with a complex mother-daughter relationship, with a secondary interweave of history and myth. The speaker was born and raised in Poland, and came to this country when she was seventeen. Her poems often address the "doubleness" of being an immigrant, the deep cultural divide that the experience tends to produce.
---
I love these poems. Each one is astounding, a whole treasured world unto itself, rendered in language that's been honed and polished until it shines. There's an intimacy in this work that keeps opening out - from the deeply personal into something enormous, not grandiose but so human that it hurts, it blesses, it heals.
-Cecilia Woloch, author of Tzigan, Sacrifice, Carpathia, Earth and Late
Amongst the tens of thousands of poets at work in the United States in the twenty-first century, there are still a handful who began writing well before the Berlin Wall came down. How long ago that seems! Though Oriana Ivy's poems are embedded in the playing out of European history after World War II, they speak to the crisis that is at the heart of the "ghetto of time." With a poet as reticent as Oriana Ivy to be visible within the horde of contemporary working poets, it's hard to know exactly how many poems she has written that are as fine as the ones in this collection. Several dozen more? Two hundred more? No matter. These poems alone would serve to preserve any poet's name on the reading list of every astute lover of poetry.
-William Mohr, author of The Headwaters of Nirvana: Reassembled Poems and Holdouts: The Los Angeles Poetry Renaissance 1948-1992
$13.00 | ISBN: 978-1-950063-65-9 | 30 Pages
---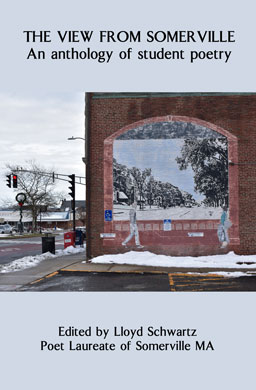 This collection of poems from the Somerville High School's poetry club, edited by Lloyd Schwartz, the poet laureate of Somerville, is a book worth digging into. 47 students wrote poetry for this anthology. The poetry club is run by teachers Theresa Dietrich and Amanda Doughty.
It was an honor to publish this anthology and write a blurb for it along with Simon Perchik, who is 98 years old. He still writes daily!
When Lloyd Schwartz approached me about publishing this anthology, I was so excited about it. I loved this project, and it is an honor to be a part of bringing it into publication. Thank you Lloyd!

Gloria Mindock, editor of Červená Barva Press, Somerville Poet Laureate 2017 and 2018
---
Lloyd Schwartz is Somerville's third poet laureate, serving from 2019-2022, following Nicole Terez Dutton and Gloria Mindock. He was one of twenty-three poets to be awarded the 2021 Academy of American Poets Poets Laureate Fellowships, which helped fund this anthology. His poetry has also been honored by the National Endowment for the Arts and the Guggenheim Foundation and has been selected for the Pushcart Prize, The Best American Poetry, and The Best of the Best American Poetry. His poems and articles have appeared in The New Yorker, Vanity Fair, The Atlantic, The New Republic, The Paris Review, Poetry, Salmagundi, Ploughshares, and Plume, among numerous other journals. He has published five books of poetry, most recently Who's on First?-New and Selected Poems (University of Chicago Press, 2021).
For thirty-seven years, he taught English and creative writing at the University of Massachusetts Boston, where for much of that time he was the director of the undergraduate creative writing program. He is now Frederick S. Troy Professor of English Emeritus. His scholarly work has centered on the American poet Elizabeth Bishop, his close friend, about whom he wrote his Ph.D. thesis and edited three major books of, or about, her work, including the Library of America's Elizabeth Bishop: Poems, Prose, and Letters and the centennial edition of her complete Prose (FSG). He writes and speaks about music and the arts for NPR's Fresh Air and WBUR's the ARTery, and for his reviews in the Boston Phoenix he was awarded the 1994 Pulitzer Prize for Criticism. He has lived in East Somerville since 1984.
---
"As one student-poet wrote, "Home is everything." Blue houses, white ones, large and small, full of cooking smells, siblings, and beloved pets, warm beds, parents, windows to look out at the leaves changing. Somerville is the heartbeat here, embraced within these pages of wildly eclectic writing. The Somerville for all seasons."
-Gloria Mindock, editor of Červená Barva Press, Somerville Poet Laureate 2017 and 2018.
"THE VIEW FROM SOMERVILLE is a much needed book. It is often said that the difference between the right word and the almost right word is the difference between lightning and the lightning bug. This book is important because it makes the reader revisit that old adage."
-Simon Perchik, author of The Family Of Man
Cover Photo: "Winter Hill Post Office Mural, by Elizabeth Carter, 1982" by Melissa Glenn Haber
$14.00 | ISBN: 978-1-950063-70-3 | 54 Pages
---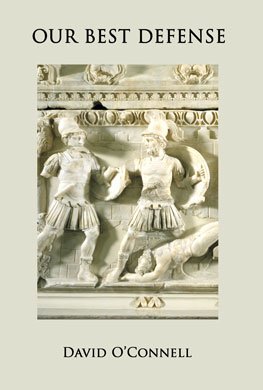 David O'Connell's chapbook, A Better Way to Fall, was awarded the Philbrick Poetry Award from the Providence Athenaeum. His poetry has appeared in New Ohio Review, The Cincinnati Review, Poet Lore, Copper Nickel, and North American Review, among other journals. He has received fellowships in poetry from the Rhode Island State Council on the Arts and earned his MFA at Ohio State University. David lives in Providence, Rhode Island with his wife, the poet Julie Danho, and their daughter. More of his work is available at davidoconnellpoet.com.
---
These wonderful poems combine intellect and feeling, family life and history and are the "best defense" against the sleep of contemporary life in which people live vicariously through the famous, refuse to acknowledge the lessons of history, and persist in denying our finitude. They enact the scrutiny and self-awareness that Robert Lowell called for, that "agonizing reappraisal," and do so with great tenderness and with a wry sense of how our lives are interwoven with myth and history and with work memos and The Weather Channel. Our Best Defense arms us with humor, fearlessness, and wonder.
-Robert Cording
David O'Connell leads readers through a modern family life with tenderness, skepticism, and wonder. It's a life he knows-though that life is not everyone's. How much is lost when he passes on time with his wife to deliver a promised memo to Legal instead? When his toddler daughter sobs to a Christmas tune? These poems know better than to feel at ease with the timbre of Bing Crosby or the rhyme scheme of Edwin Arlington Robinson. These poems expose the mirage of perfect life outside day spas and inside sheltered schoolrooms. "Why do we learn / what we learn in this order?" is a persistent question-of this book and of the times. "What are you doing with your life?" O'Connell asks. The weather's unseasonably off. And there's no way to ignore the historical record skipping.
-Yona Harvey
Every poem in David O'Connell's fine debut embodies Robert Frost's definition of poetry: "A momentary stay against confusion." Poems celebrating work well done, the blues of Robert Johnson, and the deep nourishment of domesticity keep company with poems lamenting heroism's blindness and the wasteland homo sapiens seem determined to make of our planet. Formally various, the poems share a deceptively calm, patient voice, the sound of a writer who knows how ineffably fragile and sublime existence is. "Marriage," a three-line lyric that arrives late in the book, puts the matter best: "Evening, winter, fresh/from the bath, she leaves a trail./I take off my socks."
-John Repp
$18.00 | ISBN: 978-1-950063-48-2 | 92 Pages
---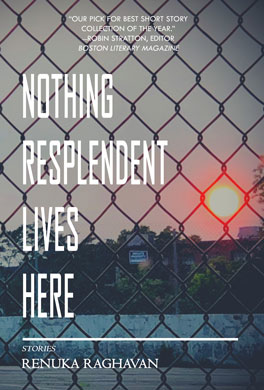 A Pushcart Prize and Best Small Fictions nominee, Renuka Raghavan, is an Indian-American author who writes short-form prose and poetry. She is the author of Out of the Blue (Big Table Publishing, 2017) and The Face I Desire (Nixes Mate, 2019). Her work has been featured in The American Journal of Poetry, Boston Literary Magazine, Bending Genres, and the South Florida Poetry Journal, among others. For a complete list of all her previous publications visit her at www.renukaraghavan.com. She writes and lives with her family and two Chihuahuas in Massachusetts.
---
"With the precision of a scalpel in the hands of a skilled surgeon, Raghavan cuts to the heart of the human experience, revealing characters at their most vulnerable. Raw and edgy, these stories bleed with emotional resonance. A powerful collection."
-Jayne Martin, author of Tender Cuts and The Daddy Chronicles-Memoir of a Fatherless Daughter
"In this literary braid of tragedy, irony, and humor, Renuka Raghavan delivers masterfully crafted stories that make you smile or break your heart. All of life's messiest, saddest, weirdest, and most chaotic scenarios are here: from a soul deadening one night stand with a disc jockey and a calm stegosaurus skeleton who's not bothered by much, to the devastating consequences of a mother's criticism, no emotion is left unturned. Nothing Resplendent Lives Here is our choice for best short story collection of the year."
-Robin Stratton, editor Boston Literary Magazine
"Nothing Resplendent Lives Here is a beautiful swirl of tight, inventive stories that introduce us to invisible mothers who show up at a poetry reading, lovers who have died but continue to live in every corner of the house, and so many others. A mix of returning library books, fishing toys out of claw machines, and giant flowers that smell of decay, acts of ordinary life turned upside down. The stories are set in varying locales from Las Vegas to New Orleans to Delhi and, of course, the happiest place on earth. Skillfully crafted with charged language, poignancy, and unforgettable characterization, these stories will delight you and weave themselves into your heart."
-Francine Witte, author of Dressed All Wrong for This and The Cake, The Smoke, The Moon
$18.00 | ISBN: 978-1-950063-71-0 | 60 Pages
---
Ash by Gloria Mindock from Glass Lyre Press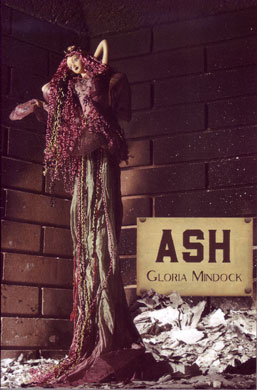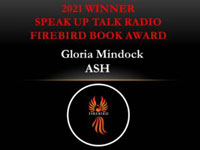 Gloria Mindock is the author of I Wish Francisco Franco Would Love Me (Nixes Mate Books), Whiteness of Bone (Glass Lyre Press), La Portile Raiului (Ars Longa Press, Romania) translated into the Romanian by Flavia Cosma, Nothing Divine Here, (U Šoku Štampa), and Blood Soaked Dresses (Ibbetson). Widely published in the USA and abroad, her poetry has been translated and published into the Romanian, Croatian, Serbian, Montenegrin, Spanish, Estonian, Albanian, bulgarian, Turkish, and French. Gloria has been published in numerous literary journals including Gargoyle, Web Del Sol, spoKe, Constellations: A Journal of Poetry and Fiction, Ibbetson, The Rye Whiskey Review, Muddy River Poetry Review, Unlikely Stories, Pratik: A Magazine of Contemporary Writing and Nixes Mate Review and anthology. Gloria has been awarded the Ibbetson Street Press Lifetime Achievement Award and was the recipient of the Allen Ginsberg Award for Community Service by the Newton Writing and Publishing Center. She received the fifth and fortieth Moon Prize from Writing in a Woman's Voice. Gloria was the Poet Laureate in Somerville, MA in 2017 & 2018.
---
In Gloria Mindock's powerful new book, the flames of love die out and the ashes linger until they dissolve into air. The body is hostage, in charred relics of failed intimacies—The burnt-out ends of smoky days (T.S. Eliot). There's beauty in the truth of Mindock's words and images: Things got smokier, battling the embers with//false waters. And there's hope: Not everyone believes in destruction.// All the heart wants is to beat. Above all, these poems radiate feeling, compassionately aware, attuned to a world of broken love that is burned beyond recognition, the ashes drifting and settling: how much sorrow can this heart take?// There is never an answer. Ash sears and sings.
—Dzvinia Orlowsky, author of Bad Harvest
In Ash, Gloria Mindock writes a gritty, beautifully haunting collection of poetry. Ash is what remains behind after destruction, ruin, death, and burning. Similarly, the poems in this collection are what will remain. Fight the shadows and wade through the darkness on a path paved by Mindock's vivid imagery, stark language, and dynamic voice, all of which, make for a most memorable experience. Now more than ever, we need these poems. With the utmost economy of words, skillful syntax, and emotional connections, each poem reverberates into the depths of your consciousness. Dark, intense, and wholly unique, Ash, by Gloria Mindock is what you've been waiting for—a collection of poetry that consumes and smolders. Are you ready?
—Renuka Raghavan, author of Out of the Blue and The Face I Desire
Gloria Mindock is a poet with singular vision: in Ash, a human heart is rolled out, then baked, then thrown to the birds; broken crucifixes are shoved into junk drawers and gather dust; a spurned/murdered woman turns into a beautiful plant that gives her ex-lover a rash. With mordant, Pinter-esque wit, Mindock explores just how far love, and even human decency, can unravel—to the point of arson, to the point of war.
Ash begin with a series of poems about lethal house fires that may be literal or metaphorical ("my skin was burned by your compulsion to be famous"), then expands to pinpoint the similar essence of human cruelty that enables soldiers to kill. As the narrator of "Doomed by the Numbers" explains: "the fact is people will still go on brutally/killing each other./Who will take my place and write about it?"
Ash concludes with an engaging, Rabelaisian roundelay of voices—mini-plays, summed up in just two stanzas, about complicated relationships between two people.
Once again, with Ash, Mindock proves herself to be unafraid of the dark. She is truly a leading, contemporary master of the edgy.
—Karen Friedland, author of Places That Are Gone and Tales from the Teacup Palace
Passionate and observant, Gloria Mindock is a tragic poet. Her books are wounds revisited. She knows that nothing, never heals.
"With a rolling pin in my hand, I roll your heart out flat... stop it from beating. The redness of blood turns to wax, sticky while wet." (Baked)
She senses the pain of the world in her being.
"The void looms deep, scorched like the desert blowing aimlessly." (Exit)
As her latest book Ash attests without doubt, Gloria is both a warrior and a martyr. Her words are swords that slowly transform into tears.
Her anger at life's injustice is mighty, but mighty is her generosity and her openness towards repair, harmony and universal peace. A must-read Ash conducts the reader through thorny labyrinths of pain and despair, allowing now and then a glimpse of ultimate resolve and liberation in verses of a rare beauty:
"...but gravity is about to free me into space... People will look at me day and night and ask, "what is it?" There is no control over what happens. The cathedral is high and my freckles fell on the floor as I left. Paleness now, that no one sees, but in the universe, I will be a prism." (Gravity)
"...A hunger surrounds us, dust gathers, and is wiped off, space evading all this as songs of the wind come through the window and we all hum." (Room)
—Flavia Cosma, author of In the Arms of the Father, Val-David, QC
$16.00 | ISBN: 978-1-941783-75-7 | 71 Pages
ABOUT THE PRESS
ČERVENÁ BARVA PRESS was founded in April of 2005. The press solicits poetry, fiction, and plays from various writers around the world, and holds open contests regularly for its chapbooks, postcards, broadsides and full-length books. I look for work that has a strong voice, is unique, and that takes risks with language. Please see submission guidelines for current information. I encourage queries from Central and Eastern Europe.